Media inquiries
Using gypsum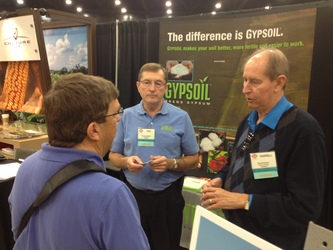 to improve soil quality is a popular topic for farm and agricultural inflencer audiences. Please contact our communications consultant Karen Bernick at 1-866-GYPSOIL (497-7645) if you have questions, need story ideas, photos or want to set up interviews with a GYPSOIL team member. GYPSOIL also participates in many national trade shows and meetings including Ag Media Summit, Commodity Classic, National No Tillage Conference and Farm Progress show to name a few.
High resolution photos for current news release available here.
Recorded and Powerpoint presentations from the 2014 Midwest Soil Improvement Symposium can be found on the Symposium page.
Highlights from the 2014 press conference at Ohio Farm Science Review.
A collection of general press releases can be found below:

RSS Feed:
feed://www.gypsoil.com/rss/news-releases
News Releases