Media inquiries
Using gypsum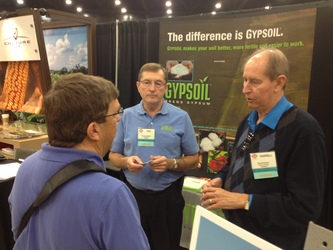 to improve soil quality is a popular topic for farm and agricultural inflencer audiences. Please contact our communications consultant Karen Bernick at 1-866-GYPSOIL (497-7645) if you have questions, need story ideas, photos or want to set up interviews with a GYPSOIL team member. GYPSOIL also participates in many national trade shows and meetings including Ag Media Summit, Commodity Classic, National No Tillage Conference and Farm Progress show to name a few.
High resolution photos for current news release available here.
Recorded and Powerpoint presentations from the 2014 Midwest Soil Improvement Symposium can be found on the Symposium page.
Highlights from the 2014 press conference at Ohio Farm Science Review.
A collection of general press releases can be found below:

RSS Feed:
feed://www.gypsoil.com/rss/news-releases
Apply Sulfur Now to Maximize Crop Yields
Published March 16, 2016
Sulfur is an essential element for crops but soils are often lacking in levels needed to maximize yields, says Ron Chamberlain, lead agronomist for GYPSOIL brand gypsum.
New soil test survey results from the International Plant Nutrition Institute (IPNI) indicate sulfur deficiencies are found in soil tests across many Midwestern states. In Wisconsin, for example, 81% of soil tests studied in IPNI's 2015 survey were found to be low in sulfur. 1
"Corn, soybeans and alfalfa need sulfur to grow and to develop to their genetic potential," Chamberlain says. "For every 10 pounds of nitrogen that a corn crop needs, it also needs a pound of sulfur. You want seedlings to have readily available sulfate sulfur in the soil profile order to eliminate the stress that occurs when it's deficient. Yellowing in new leaf tissue and stunted growth in alfalfa, corn and soybeans may indicate a sulfur deficiency. In order to build cells, corn needs a sufficient supply of sulfur from emergence thru V6 and beyond when it's growing rapidly."
Unfortunately, as the IPNI survey indicates, many farm fields lack the amount of sulfur crops needed for maximum yields. There are several reasons. First and foremost, the Clean Air Act regulations reduced sulfur dioxide emissions from coal-burning power plants, Chamberlain says. Before these regulations went into effect years ago to reduce "acid rain" caused by sulfur dioxide, farm fields received 25-40 pounds of sulfur per acre every year, depending on their location, Chamberlain says. Also contributing to the decline in sulfur levels in farm fields are low-sulfur fertilizers and high crop yields that draw heavily on levels of sulfur in the soil.
"GYPSOIL is calcium sulfate dihydrate and it contains 16-17 percent sulfate sulfur or about 320 to 340 pounds sulfur per ton. Because it is water soluble, gypsum moves into the soil profile where plants can easily access it. The sulfur in gypsum is in sulfate form so it is immediately available for plant uptake, making it a good option for spring applications. By contrast, elemental sulfur must be converted to sulfate in the soil before the plant can use it," says Chamberlain.
With challenging crops prices, growers are scrutinizing input costs and, understandably, may wonder if applying really sulfur pays off.
"It's even more important now to maximize bushels and tonnage when prices are low in order to produce the greatest amount of revenue," Chamberlain says.
GYPSOIL now available in pellets
GYPSOIL brand gypsum is available in bulk form and the new GYPSOIL BLENDABLE pelleted gypsum. GYPSOIL BLENDABLE will be launched for sale initially through Wisconsin, Minnesota, Illinois and Iowa agricultural retailers. It is a durable and competitively priced pellet, ideal for mixing with other fertilizers and for variable rate applications. For more information about using gypsum for sulfur, visit www.gypsoil.com
For other questions, photos and to arrange for story interviews, please contact Karen Bernick of Karen Bernick Marketing Communications.
Direct: 563-285-6832
Mobile: 563-320-2625
email: karen@karenbernick.com
1Soil Test Levels in North America 2015 International Plant Nutrition Institute, http://soiltest.ipni.net/maps/Percent_Change

GYPSOIL is a division and tradename of Beneficial Reuse Management LLC. Its mission is to make a positive impact in its customers' soil and crops while conserving natural resources and protecting the environment. GYPSOIL markets high quality gypsum from multiple supply partners including utilities, manufacturing plants and other sources; assists customers in meeting regulatory compliance; conducts field research on the benefits of gypsum applications, and provides technical services for agronomic decision-making and application planning. GYPSOIL also assists growers in obtaining grants and incentives to incorporate gypsum as part of new conservation practice standards. GYPSOIL brand gypsum is distributed to crop growers in the Midwest, Plains, Delta and Southeast. www.gypsoil.com.

GYPSOIL is a trade name of the GYPSOIL Division of Beneficial Reuse Management LLC
372 West Ontario Street ● Suite 501 ● Chicago, IL 60654 ● 1-866-GYPSOIL (497-7645)
● www.gypsoil.com ● Twitter @gypsoil ● Facebook.com/gypsoil.