Soil is one of earth's most precious resources. As the population continues to grow, optimizing the health of our soils is increasingly important. GYPSOIL brand gypsum works as a soil amendment to improve soil quality and provide a sustainable source of nutrients to keep soils healthy, while also protecting our waterways.
Dr. Warren Dick at The Ohio State University is currently leading a landmark research study exploring how water quality improves following gypsum application. Inital results suggest many benefits including reduced nutrient runoff, decreased erosion and improved water quality.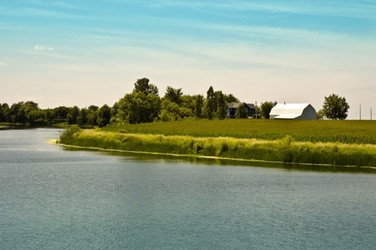 Existing research indicates that GYPSOIL brand gypsum contributes to many environmental benefits. Top level benefits include:
Improved water quality
Water conservation
Enhanced crop yield
Reduced toxicity
Soil nutrient retention
Learn more about each of these benefits in Norton and Andersen's presentation from the 2013 MIdwest Soil Improvement Symposium.
Additional studies at the USDA-ARS National Soil Erosion Research Laboratory at Purdue University have demonstrated that applying gypsum improves water infiltration so soil absorbs rainwater quickly. This minimizes surface runoff and contributes to less soil erosion and loss of applied nutrients.
In addition to soil and water quality benefits, the beneficial reuse of gypsum enables utilities and other processing plants to reduce their dependence on landfilling. Recycling gypsum is a sustainable practice that positively impacts our environment and agricultural production.
GYPSOIL's parent company, Beneficial Reuse Management, is constantly looking for ways to create partnerships with industrial companies to turn waste products into safe and sustainable reuse products.