POST A GYPSOIL APPLICATION PHOTO
GET A FREE T-SHIRT!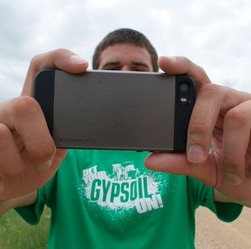 Snap a photo of GYPSOIL being applied at your farm to earn a free t-shirt. We'll also enter you to win a GoPro camera courtesy of GYPSOIL brand gypsum!
GYPSOIL brand gypsum is used as a soil amendment to balance soil chemistry and improve soil structural quality. It helps increase water infiltration and reduces ponding, crusting and runoff. GYPSOIL is also a high-quality and cost-effective source of sulfur in sulfate form.
Post your GYPSOIL application photo on your favorite social media site such as Facebook, Twitter, Instagram, Vine, YouTube, or LinkedIn.
Once you post your amazing photo we'll reach out to you via the social media site and send you a free t-shirt! But that's not all, we'll also put you in a drawing for a GoPro camera to be held at the end of the year!
Questions? Contact info@gypsoil.com or call 866-GYPSOIL (497-7645).
Here's what you do:
1. Follow @Gypsoil on Facebook, Twitter, Instagram, Vine, YouTube, or LinkedIn.
2. Post a photo or video of gypsum application at your farm on any social media platform above.
3. Include @Gypsoil, #getyourGYPSOILon, & your city/state.
4. Get a free t-shirt! We will direct message you for shipment.
5. BONUS: Automatically entered to win GoPro camera – keep your fingers crossed!