What GYPSOIL Can Do For You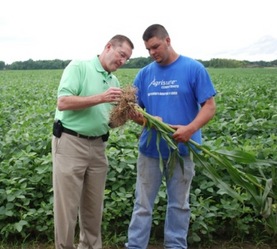 Soil Amendment
GYPSOIL brand gypsum is a soil amendment used by corn, soybean, alfalfa, cotton and other crop growers to improve soil and water quality and/or increase crop productivity. Over time, GYPSOIL neutralizes metals and chemical salts and loosens soil to improve air and water movement throughout the soil profile. Nearly all heavy soils containing clay, including gumbo, can benefit from gypsum.
GYPSOIL brand gypsum (calcium sulfate dihydrate [CaSO4 - 2H2O]) is an excellent source of sulfur and calcium.
Soil Improvement Through Gypsum
GYPSOIL is a synthetic agricultural gypsum that helps achieve soil improvement. By spreading agricultural gypsum, crop growers can effectively combat nutrient runoff, remove aluminum barriers, allow water infiltration, eliminate soil crusting, and soften tight clay soils.
A Beneficial Reuse Management Division
GYPSOIL is a division and tradename of Beneficial Reuse Management LLC. Its mission is to make a positive impact in our customers' soil while conserving natural resources and protecting the environment.
GYPSOIL/BRM - the company - works with leading coal-fired utility companies and other processing plants that produce co-product gypsum to establish safe and reliable supplies for farmers in the Midwest, Southeast and Delta regions.
Gypsum Supply Partners
GYPSOIL maintains partnerships that allow access to We Energies Products and gypsum from other major producers. Under the guidance of agronomist Ron Chamberlain and through events like the Midwest Soil Improvement Symposium, featuring speakers like Dr. Warren Dick, Dr. Dexter Watts, and Dr. Darrell Norton, GYPSOIL/BRM constantly works to combine the latest information with proven technologies that make gypsum available for growers who need it.
Spreading Gypsum to Crop Growers
Once GYPSOIL/BRM establishes a new source partner, we assist the supplier to ensure regulatory compliance is met, coordinate materials testing and develop transportation options. GYPSOIL/BRM also works with dealers and distributors to ensure growers receive the agronomic information needed to incorporate gypsum into their individual management program.
Agricultural Gypsum to Improve Soil Quality
To learn more about how GYPSOIL can make an impact on your soil quality, click on the regional map above in the location where you farm or click a brochure below.
Dr. David Montgomery's presentation at the 2013 Midwest Soil Improvement Symposium - "Dirt: The Erosion of Civilizations."
Application Tips Video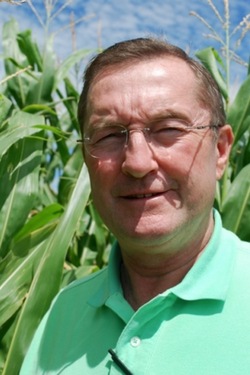 Have a question about using GYPSOIL?
Need to know what rate to use on sodic soils?
Or, whether or not to apply during the winter?
Or, how it compares to mined gypsum?
Ask our Agronomist, Ron Chamberlain! Submit your questions here.
© Copyright 2014 GYPSOIL™ / Beneficial Reuse Management LLC • Unauthorized duplication / use of this content is prohibited without permission. Articles and referenced materials on this site have been posted with permission from source.