GYPSOIL brand gypsum supplies calcium and sulfur in a single product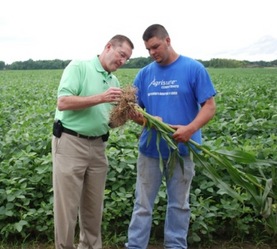 GYPSOIL brand gypsum is a soil amendment used by corn, soybean, alfalfa, cotton and other crop growers to increase crop productivity through improved soil structure and valuable added nutrients. GYPSOIL brand gypsum (calcium sulfate dihydrate [CaSO4 - 2H2O]) is an excellent source of sulfur and calcium.
Soil Improvement Through Agricultural Gypsum
GYPSOIL is the leader in agricultural gypsum. By spreading gypsum, crop growers can effectively improve soil physical properties to soften tight clay soils, increase rainwater infiltration and retention, combat soil crusting, improve seedling emergence and root growth, remove aluminum barriers and reduce nutrient runoff and soil loss. Recent research shows promising results in using field-applied gypsum to reduce nutrient runoff from farm fields to ultimately protect water quality.
Talk to your GYPSOIL Territory Manager
Learn the name of your local GYPSOIL dealer or distributors by talking with one of our Territory Managers located throughout the Midwest, Southeast and Mid-South.
GYPSOIL is a Division of Beneficial Reuse Management
GYPSOIL is a division and tradename of Beneficial Reuse Management LLC. It works with leading coal-fired utility companies and other processing plants that produce co-product gypsum to establish safe and reliable supplies for farmers in the Midwest, Mid-South and Southeast regions.
Gypsum Technical Information
Through participation in events like GYPSOIL's own Midwest Soil Improvement Symposium, national trade events such as the National No Tillage Conference and other regional field events such as AgTIPS 2014, plus through other communications efforts, GYPSOIL provides leadership in the understanding and application of agricultural gypsum. The 2014 Midwest Soil Improvement Symposium features more than 13 speakers, including: Dr. Warren Dick, Dr. Darrell Norton, Dr. Leo Espinoza, Dr. Deann Presley, Dr. Dorivar Ruiz Diaz, Jared Morrison, Joe Nester, Dr. Marvin Batte, Ron Chamberlain, Cory Schurman, Dana Minihan, Kansas Water Office Director Tracy Streeter and Kansas Department of Agriculture Secretary Jackie McClaskey. GYPSOIL/BRM is committed to delivering the latest information to growers who wish to use gypsum, agricultural consultants, soil scientists and others interested in soil quality.
To learn more about how GYPSOIL can make an impact on your soil quality, click on the regional map above in the location where you farm or click a brochure below.
What is GYPSOIL?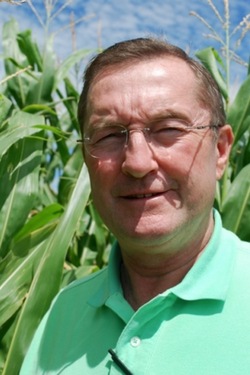 Have a question about using GYPSOIL?
Need to know what rate to use on sodic soils?
Or, whether or not to apply during the winter?
Or, how it compares to mined gypsum?
Ask our Agronomist, Ron Chamberlain! Submit your questions here.