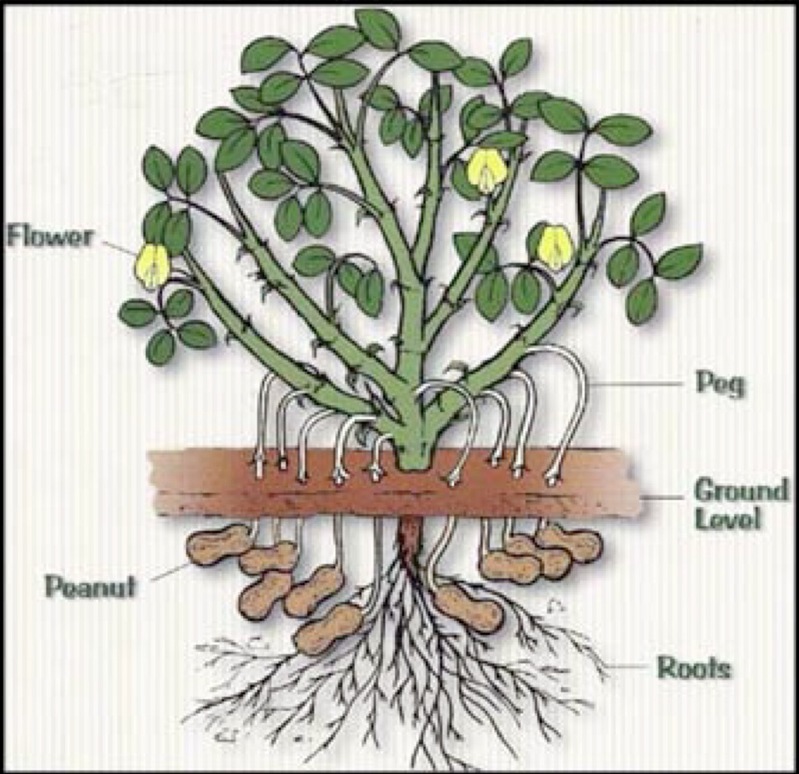 Credit: Agronomy Club University of Georgia
GYPSOIL is one of the best, most economical sources of gypsum for peanuts. It is a very pure form of calcium sulfate, analyzed to deliver 22 percent calcium plus 16 percent sulfur.
Large-seeded peanuts require plenty of soluble calcium for proper seed development. Without gypsum, growers of Virginia type peanuts and most popular runner varieties risk problems such as pops, pod rot and black heart.
Apply GYPSOIL at first bloom, about 30 to 35 days after planting. This puts calcium in the pegging zone where it's needed. The result is better yields of premium grade peanuts. For more information or the name of your nearest supplier, visit our Dealer Locator or call 1-866-GYPSOIL (497-7645).
Benefits of GYPSOIL® brand gypsum:
Supplies high quality, low cost source of soluble calcium.
Promotes pod and seed development and decreases pod rot, black heart and pops.
Over time Gypsoil improves soil structure for increased water permeation and decreased crusting.
Applies easily without chunks or clods.
Typical Analysis: GYPSOIL
Calcium Sulfate Dihydrate
(dry weight basis)

Calcium........................

22%

Sulfur............................

16%

pH................................

3.5-5.0

Particle size.................

5% on a 60 mesh
50% thru 200 mesh

Bulk density.................

64-68/CU FT3
CaSO4 - 2H20.............
(Purity)

>85%

Free moisture..............

12%-15%
Why GYPSOIL?
GYPSOIL resists chunks and clumps unlike some other gypsum sources. It flows freely through a spreader buggy and is easy to apply.
In addition to calcium, Gypsoil is an excellent source of readily available, low cost sulfur. Sulfur is becoming deficient in certain soils.
When to apply
It is best to apply GYPSOIL to peanuts at bloom time–in late June or early July–so calcium is available when the peanut starts pegging. With just a bit of moisture, the calcium is readily available in the peanut plant's pegging zone.
Recommended rates
Most growers of large-seeded Virginia type peanuts automatically apply 1,000 to 2,000 lbs/acre to ensure adequate pegging zone calcium rates. North Carolina State University encourages growers to evaluate peanut performance on their own farms to pinpoint the best rate response.1
Growers of the newer large-seeded runner varieties are advised to pull a pegging zone soil sample (2-3 inches from surface) after peanuts have "cracked" or emerged..
The University of Georgia suggests that if the pegging zone test shows soil calcium concentrations of less than 500 lbs/acre, gypsum is recommended at a rate of 1,000 lbs. of per acre.2 Some growers of the newer varieties opt to apply gypsum automatically to ensure adequate calcium is available in the fruiting zone.
Seed peanut producers use gypsum at rates of 1,000 lbs./acre or more to avoid germination problems in the seed they produce. Many peanut companies require that growers use gypsum as part of their seed contract.
Typical GYPSOIL Rates
Type of peanut
Rate
Virginia
1,000 to 2,000 lbs/acre
Large-seeded Runners
If pegging zone Ca is < 500 lbs/acre, apply 1,000 lbs/acre
Seed peanuts (all large seeded varieties)
1,000 lbs/acre or more based on seed contract
For more information on using GYPSOIL for peanuts, call 1-888-GYPSOIL (497-7645) or contact your
local dealer
.