Download a new brochure about
GYPSOIL BLENDABLE for alfalfa!

Download PDF.

GYPSOIL BLENDABLE Sell Sheet:

Download PDF.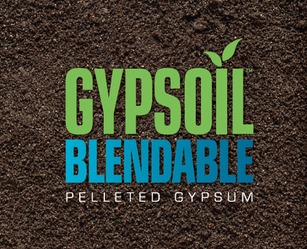 Ask your local fertilizer dealer about GYPSOIL
®

BLENDABLE pelleted gypsum, a new form of GYPSOIL brand gypsum from Beneficial Reuse Management. As sulfur deficiencies continue to increase, GYPSOIL BLENDABLE is a highly economical and convenient way to add sulfur as part of a dry fertilizer blend. This pH neutral material contains 17 percent sulfate sulfur and 21 percent calcium. The sulfate sulfur is readily absorbed by the plant. And, unlike other pelleted gypsum products on the market, GYPSOIL BLENDABLE offers premium durability and extended solubility at an attractive price.

GYPSOIL BLENDABLE may be ordered with zinc sulfate, soluble boron and other nutrient packages.

Watch video:

A Consistent, Durable Pelleted Gypsum
Fertilizer manufacturers and blenders: GYPSOIL® BLENDABLE pelleted gypsum makes blending with other dry fertilizer products efficient and easy. Fertilizer blenders can expect that:
GYPSOIL BLENDABLE won't break down into fine particles during storage, blending or application – even in humid environments.
The solubility of GYPSOIL BLENDABLE is similar to potash, making it easier to handle and apply in all weather conditions compared with other pelleted gypsum products.
The average particle size of most granular materials is 240 to 336 SGN (#6-8 mesh). GYPSOIL BLENDABLE is available from #6-14 mesh to better match other components in your blend.
Granule uniformity is excellent.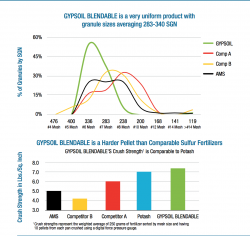 GYPSOIL® BLENDABLE
Composition

• 17% sulfate sulfur
• 21% calcium

Benefits of Gypsum
• Provides sulfate sulfur to plants
• Improves root development
• pH neutral material
• Improves soil health over time
• Improves water utilization
• Improves plant quality

More Information
GYPSOIL BLENDABLE pelleted gypsum is now available. To learn more, call 844-BLENDUS or blendable@gypsoil.com.