Media inquiries
Using gypsum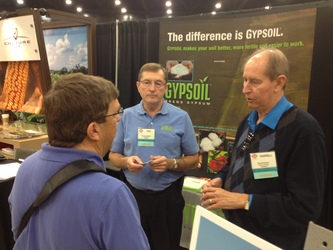 to improve soil quality is a popular topic for farm and agricultural inflencer audiences. Please contact our communications consultant Karen Bernick at 1-866-GYPSOIL (497-7645) if you have questions, need story ideas, photos or want to set up interviews with a GYPSOIL team member. GYPSOIL also participates in many national trade shows and meetings including Ag Media Summit, Commodity Classic, National No Tillage Conference and Farm Progress show to name a few.
High resolution photos for current news release available here.
Recorded and Powerpoint presentations from the 2014 Midwest Soil Improvement Symposium can be found on the Symposium page.
Highlights from the 2014 press conference at Ohio Farm Science Review.
A collection of general press releases can be found below:

RSS Feed:
feed://www.gypsoil.com/rss/news-releases
GYPSOIL to sponsor Nutrient Management and Edge of Field Monitoring Conference in conjunction with Healthy Soils for Healthy Waters
Published November 5, 2015
Beneficial Reuse Management, marketers of GYPSOIL brand gypsum, is pleased to announce it will be a sponsor for the Nutrient Management and Edge of Field Monitoring Conference in conjunction with Healthy Soils for Healthy Waters. The conference will be held December 1-3, 2015, in Memphis, TN. It will provide an opportunity for researchers, conservation professionals, crop consultants and farmers to discuss edge of field monitoring research, nutrient reduction strategies and activities, and conservation programs that have been successful and innovative. The conference will emphasize progress of conservation efforts in meeting the Mississippi River Basin and Great Lakes Basin nutrient reduction goals.
Keynote speakers are Ann Bartuska, Deputy Under Secretary for Research, Education and Economics, US Department of Agriculture; Ellen Gilinsky, Senior Advisor, Environmental Protection Agency; Matt Lechtenberg, Water Quality Initiative Coordinator, Iowa Department of Agriculture and Land Stewardship; Jim Moseley, AGree Co-Chair, (former Deputy Secretary of USDA); and Dennis Demick, Executive Editor, Environment, National Geographic Magazine.
Organizers for the conference include the University of Arkansas, The Ohio State University, the Soil & Water Conservation Society, and Greenleaf Advisors.
The first day of the conference is part of the Healthy Soils for Healthy Waters (HSHW) workshop and symposia series designed to promote the development of whole system management practices for farmland. The HSHW sessions will feature discussions on edge of field nutrient measuring and monitoring systems, nutrient management and soil amendments, quality no-till, cover crops, and drainage and irrigation.
Main speakers for HSHW include Kevin King, USDA-ARS; Andy Ward, Ohio State University; Kristin Weeks Duncanson, Duncanson Growers, Mapleton, MN; Joe Nester, Nester Ag, Bryan, OH; Nick Goeser, National Corn Growers Association and Soil Health Partnership; Forbes Walker, University of Tennessee; Dan DeSutter, Indiana producer; Anne Paulson, John Deere; Dave Brandt, Ohio producer; Mike Taylor, Arkansas producer; Steve Stevens, Arkansas Discovery Farms; and Andrew Sharpley, University of Arkansas. Randall Reeder, The Ohio State University (retired), will be moderator.
For more information about the overall program or registration, contact Kim Johnson-Smith, events@swcs.org.
For information about HSHW, contact Randall Reeder, reederassociates@gmail.com.
Or, visit http://www.swcs.org/index.cfm?nodeID=84061&audienceID=1
GYPSOIL is a division and tradename of Beneficial Reuse Management LLC. Its mission is to make a positive impact in its customers' soil and crops while conserving natural resources and protecting the environment. GYPSOIL markets high quality gypsum from multiple supply partners including utilities, manufacturing plants and other sources; assists customers in meeting regulatory compliance; conducts field research on the benefits of gypsum applications, and provides technical services for agronomic decision-making and application planning. GYPSOIL also assists growers in obtaining grants and incentives to incorporate gypsum as part of new conservation practice standards. GYPSOIL brand gypsum is distributed to crop growers in the Midwest, Plains, Delta and Southeast. www.gypsoil.com.

GYPSOIL is a trade name of the GYPSOIL Division of Beneficial Reuse Management LLC
372 West Ontario Street ● Suite 501 ● Chicago, IL 60654 ● 1-866-GYPSOIL (497-7645)
● www.gypsoil.com ● Twitter @gypsoil ● Facebook.com/pages/gypsoil.