Media inquiries
Using gypsum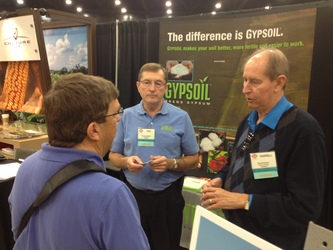 to improve soil quality is a popular topic for farm and agricultural inflencer audiences. Please contact our communications consultant Karen Bernick at 1-866-GYPSOIL (497-7645) if you have questions, need story ideas, photos or want to set up interviews with a GYPSOIL team member. GYPSOIL also participates in many national trade shows and meetings including Ag Media Summit, Commodity Classic, National No Tillage Conference and Farm Progress show to name a few.
High resolution photos for current news release available here.
Recorded and Powerpoint presentations from the 2014 Midwest Soil Improvement Symposium can be found on the Symposium page.
Highlights from the 2014 press conference at Ohio Farm Science Review.
A collection of general press releases can be found below:

RSS Feed:
feed://www.gypsoil.com/rss/news-releases
GYPSOIL to Offer UltraCal™ Lime from GLC Minerals
Published August 23, 2016
Midwestern crop growers now have better access to high-value, high-calcium agricultural lime for managing soil pH as a result of an agreement between GLC Minerals, Green Bay, WI, and the GYPSOIL Division of Beneficial Reuse Management. The new agreement paves the way for the introduction of GYPSOIL UltraCal™ Lime and marks the first time GYPSOIL has marketed lime in addition to its GYPSOIL™ brand gypsum.

"We are very excited to offer our customers the highest value lime available from a reputable manufacturer like GLC Minerals," says Trevor Schuurman, national sales manager for GYPSOIL.

"GLC Minerals is proud to manufacture the industry's standard in calcium carbonate products because we select our inputs based on exact chemistry requirements for specific products," says Holly Bellmund, president and COO of GLC Minerals.

"We've built a reputation as a leading agricultural lime manufacturer and our new partnership with GYPSOIL will allow us to better serve Midw
estern crop growers as they seek to manage pH in their soils," Bellmund says.

Applying high-quality agricultural lime, such as UltraCal Lime, is an excellent option for managing pH on farmland, according to soil science experts. Raising crops in soils with balanced pH increases nutrient availability and crop productivity, and helps prevent environmental problems like runoff.

Recommended targets for pH in soils vary by crop. For grain corn or soybeans, growers should aim for pH levels of 6 or higher. For alfalfa, pH should be 6.8 or higher, according to University of Wisconsin literature.*

Highest value liming material available

UltraCal Lime is a highly-pure, high-calcium lime that is available at GYPSOIL dealers throughout the Midwest. It has a neutralizing index of 90-99, indicating that UltraCal Lime offers the highest relative value available based on purity (percent calcium carbonate equivalent) and fineness (particle size). It is 97 percent calcium carbonate or higher, with 38.2 percent
or more calcium.

UltraCal Lime is a fast-acting and highly effective liming tool. So farmers can typically apply less product to amend soils than if they opted for lime with a lower neutralizing index. "We manufacture according to specific quality guidelines, day in and day out so farmers can be assured of what they are purchasing, " says Bellmund.

"UltraCal Lime goes hand in hand with our goal of helping farmers improve soil health," adds Schuurman. GYPSOIL can be used to balance soil chemistry by incorporating soluble calcium and sulfate sulfur, two important nutrients that also have a positive impact on soil health, Schuurman explains. But since GYPSOIL is pH neutral it is not used to manage acidity. "UltraCal Lime is our new option for growers that want to manage pH," he says.

It is important to clarify that UltraCal Lime is calcitic lime, not dolomitic lime. It is manufactured from calcium carbonate (CaCO3) versus magnesium carbonate (MgCO3) limestone. UltraCal Lime, says Schuurman, is an ideal liming option for common Midwestern soils that are tight, prone to compaction and naturally high in magnesium
. In contrast, dolomitic lime (CaCO3 + MgCO3) can exacerbate soil structural problems by adding more magnesium into the soil complex.

"Now our GYPSOIL customers have access to UltraCal Lime to adjust pH and add high-quality calcium at the same time, and GYPSOIL for when they don't want to alter pH," Schuurman says.

Agronomy expertise

GYPSOIL has dealers in 21 states with 12 experienced agronomy professionals who call on crop growers, ag retailers and fertilizer outlets, custom applicators and other agricultural product dealers.

"GYPSOIL offers deep experience working with crop growers to improve soil quality," Bellmund says. "Our agreement will enable our existing customers to tap into that expertise and offer GYPSOIL an important new product to serve the industry."

GYPSOIL also has developed an efficient and cost-effective logistical system to ensure UltraCal Lime customers have access
to the liming material at the least cost possible.

The new agreement is effective immediately. The two companies are a good fit because both companies are family-owned businesses and focused on supplying soil chemistry solutions to improve soil health.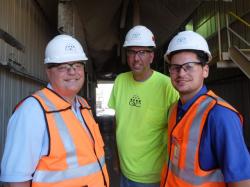 Representatives of GLC Minerals of Green Bay recently welcomed representatives of the GYPSOIL Division of Beneficial Reuse Management, Chicago, for a tour of GLC Mineral's Port of Green Bay operations. Pictured are GLC's Board Member Glen Yurjevich (left) and Production Supervisor Kevin Fye (center), with GYPSOIL's Brandon Kann (right). Kann will lead the launch of GYPSOIL's new UltraCal Lime, a high calcium lime product manufactured by GLC and used by crop farmers to amend soils and pH.


For more information about GYPSOIL's new UltraCal Lime, contact 866-GYPSOIL (497-7645) or write info@gypsoil.com.

*Peters, et al, Choosing Between Liming Materials, University of Wisconsin Cooperative Extension Bulletin A3671, 1996.

GYPSOIL is a division and tradename of Beneficial Reuse Management LLC. Its mission is to make a positive impact in its customers' soil and crops while conserving natural resources and protecting the environment. GYPSOIL helps crop farmers to access and understand the agronomics and application of using gypsum and other high value soil amendments, and develops efficient distribution networks to serve them. GYPSOIL products are sold to crop growers in the Midwest, Delta and Southeast. www.gypsoil.com.

GLC Minerals has been processing calcium carbonate products at its dockside facility in Green Bay, Wisconsin, since 1945. With roots back to 1871 as a family run business, the company has grown to become the leader in custom mineral processing for markets such as agronomy, animal feed, environmental, glass and industrial fillers. www.glcminerals.com.

GYPSOIL and UltraCal Lime are trade names of the GYPSOIL Division of Beneficial Reuse Management LLC ●372 West Ontario Street ● Suite 501 ● Chicago, IL 60654 ● 1-866-GYPSOIL (497-7645) ● www.gypsoil.com ● Twitter @gypsoil ● Facebook.com/pages/gypsoil.