Media inquiries
Using gypsum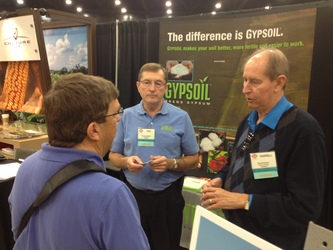 to improve soil quality is a popular topic for farm and agricultural inflencer audiences. Please contact our communications consultant Karen Bernick at 1-866-GYPSOIL (497-7645) if you have questions, need story ideas, photos or want to set up interviews with a GYPSOIL team member. GYPSOIL also participates in many national trade shows and meetings including Ag Media Summit, Commodity Classic, National No Tillage Conference and Farm Progress show to name a few.
High resolution photos for current news release available here.
Recorded and Powerpoint presentations from the 2014 Midwest Soil Improvement Symposium can be found on the Symposium page.
Highlights from the 2014 press conference at Ohio Farm Science Review.
A collection of general press releases can be found below:

RSS Feed:
feed://www.gypsoil.com/rss/news-releases
New soil improvement service available from GYPSOIL
Published September 10, 2013

The GYPSOIL Soil Improvement Analysis (GSIA) will be piloted at the Ohio Farm Science Review (FSR). The GSIA service helps crop growers evaluate how GYPSOIL brand gypsum can impact soil quality on a field-by-field basis. Those who sign up for a GSIA at FSR will be eligible for a $1/ton discount on GYPSOIL purchased this fall. Free commemorative t-shirt to first 100 to participate.
September 10, 2013...Crop growers tired of dealing with the negative effects of tight clay soils and poor soil structure, as well nutrient deficiencies, are encouraged to sign up for a free, on-farm GYPSOIL Soil Improvement Analysis (GSIA). The GSIA assists crop growers in evaluating how gypsum can impact soil quality in their operation.
"GYPSOIL is a foundational tool that changes soil structure and improves water infiltration and holding capacity," says Ron Chamberlain, GYPSOIL's founder and lead agronomist. "It also has the power to decrease erosion and reduce nutrient loading in our watersheds. In addition, GYPSOIL supplies calcium and sulfate sulfur, which are essential in plant nutrition."
GSIA helps answer questions about gypsum use

Many crop growers are unfamiliar with using gypsum because it hasn't been widely available until recently through the availability of synthetic gypsum, Chamberlain says. "They have questions about where and how to use it," he notes.
The new GSIA service – which will be piloted at the Farm Science Review in Ohio – is designed to help answer those questions. A GSIA involves reviewing soil test results, cropping histories and plans, and overall conditions of specific fields, explains Chamberlain.
Farmers will be able to identify where GYPSOIL will make the biggest impact and also recommended rates to help improve the soil physical properties and supply valuable nutrients such as calcium and sulfur.
Discount for signing up at Ohio FSR

Growers who sign up at the Ohio Farm Science Review for a GSIA on their farm for this fall will be eligible to receive $1/ton off on GYPSOIL purchased before December 31, 2013. The first 100 to sign up for a GSIA at the show will receive a free commemorative t-shirt.
Growers that have used GYPSOIL on their farms report outstanding results," Chamberlain says. "The first thing they see is how much better soils sponge up moisture due to increased soil particle aggregation and better porosity. The improvements in soil physical structure also enhance soil biology, and as a result, production efficiency improves."
For more information about the new GYPSOIL Soil Improvement Analysis, write GSIA@gypsoil.com or call 1-866-GYPSOIL (497-7645).
GYPSOIL is a division and tradename of Beneficial Reuse Management, LLC. Its mission is to help crop growers improve their soils and increase productivity while conserving natural resources and protecting the environment. GYPSOIL brand gypsum is now available through distributors in 17 States in the Midwest, Plains and South. GYPSOIL manages gypsum distribution and marketing programs for a wide range of supply partners including utilities and manufacturing companies, diverting valuable co-products from landfill disposal to productive use as agricultural inputs.
GYPSOIL is a tradename of the
GYPSOIL Division of Beneficial Reuse Management LLC,
1-866-GYPSOIL (497-7645) www.gypsoil.com
372 West Ontario Street, Suite 501, Chicago, IL 60654
Follow us on Twitter @gypsoil ● Like us at Facebook.com/pages/gypsoil.