Media inquiries
Using gypsum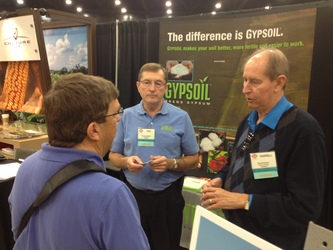 to improve soil quality is a popular topic for farm and agricultural inflencer audiences. Please contact our communications consultant Karen Bernick at 1-866-GYPSOIL (497-7645) if you have questions, need story ideas, photos or want to set up interviews with a GYPSOIL team member. GYPSOIL also participates in many national trade shows and meetings including Ag Media Summit, Commodity Classic, National No Tillage Conference and Farm Progress show to name a few.
High resolution photos for current news release available here.
Recorded and Powerpoint presentations from the 2014 Midwest Soil Improvement Symposium can be found on the Symposium page.
Highlights from the 2014 press conference at Ohio Farm Science Review.
A collection of general press releases can be found below:

RSS Feed:
feed://www.gypsoil.com/rss/news-releases
AG Media Summit - Southeast
Published July 25, 2011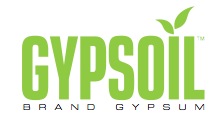 FOR IMMEDIATE RELEASE
Robert Spoerri
Beneficial Reuse Management LLC
July 25, 2011, Chicago, IL - Peanut growers in the Southeast now have access to GYPSOIL brand gypsum, an economical, easy-to-use source of land plaster. GYPSOIL brand gypsum is marketed by Beneficial Reuse Management (BRM), here, and is available locally through local farm supply outlets.
GYPSOIL is a very pure form of calcium sulfate, analyzed to deliver 22 percent calcium plus 16 percent sulfur. It resists clumps and chunks so it applies evenly with a lime spreader or any other application equipment suitable for bulky dry materials.
"GYPSOIL is an excellent option for supplying calcium, a nutrient that is important to a wide variety of crops, but particularly essential for peanuts," says Ron Chamberlain, director of gypsum programs for GYPSOIL/BRM. In addition to calcium, gypsum is an ideal source of soluble sulfur, a nutrient that is often lacking in soils today.
Large-seeded peanut varieties, including Virginia and certain runner types, are at risk for underdeveloped kernels or "pops" if they do not have enough calcium. Dark spots on seeds, poor germination, poor grades and pod disease are also potential problems that can result from calcium deficiency.
Applying gypsum (land plaster) at rates of 1,000 to 2,000 pounds per acre is a common management strategy used by peanut growers to avoid these problems. Gypsum should be applied at bloom time so that calcium is available at fruiting in the top few inches of the soil, or pegging zone. This allows pods to absorb the gypsum directly from the soil as they develop.
Applying GYPSOIL to cropland also improves soil structure by neutralizing the metals and chemical salts that bind to clay particles and cause poor soil structure and sealing at the soil surface. "This results in less ponding and runoff after a rain, as well as less soil erosion when GYPSOIL is used on tight clay soils," says Chamberlain.
Serving growers
"Our goal is to help agricultural producers gain access to sustainable resources to meet their production needs," says Chamberlain. "We look forward to serving Southeastern growers as they fulfill their gypsum needs."
About GYPSOIL
GYPSOIL is a division and tradename of Beneficial Reuse Management LLC. Its mission is to make a positive impact in our customers' soil while conserving natural resources and protecting the environment.