Media inquiries
Using gypsum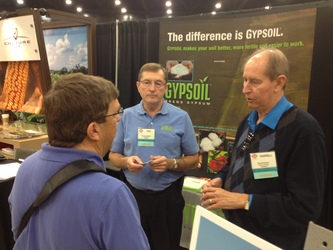 to improve soil quality is a popular topic for farm and agricultural inflencer audiences. Please contact our communications consultant Karen Bernick at 1-866-GYPSOIL (497-7645) if you have questions, need story ideas, photos or want to set up interviews with a GYPSOIL team member. GYPSOIL also participates in many national trade shows and meetings including Ag Media Summit, Commodity Classic, National No Tillage Conference and Farm Progress show to name a few.
High resolution photos for current news release available here.
Recorded and Powerpoint presentations from the 2014 Midwest Soil Improvement Symposium can be found on the Symposium page.
Highlights from the 2014 press conference at Ohio Farm Science Review.
A collection of general press releases can be found below:

RSS Feed:
feed://www.gypsoil.com/rss/news-releases
Beneficial Reuse Management Is Not Shutting Down Winona GYPSOIL Plant
Published November 2, 2016
November 2, 2016...Contrary to a news report suggesting otherwise, Chicago-based Beneficial Reuse Management (BRM) is not shutting operations at its GYPSOIL pelletizing plant in Winona, MN.
According to company managers, BRM has recently adjusted from a 24/7 daily production schedule to one extended shift per day. The move was made to better meet routine lower fertilizer volumes required during the winter months while preparing for higher volumes needed during the spring.
The $5 million plant opened in early 2016 to produce GYPSOIL BLENDABLE pellets, supplying 17 percent sulfate sulfur and 21 percent calcium. The pellets are used by crop growers as a high quality fertilizer and have been primarily sold through agricultural retailers in Minnesota, Wisconsin and Iowa.
"Over the summer of 2016, we expanded capacity at the plant by adding employees and producing 24 hours a day. We operated this way until October, 31, 2016," explained Steve Musser who oversees the company's pelletizing operations.
"Fertilizer sales are seasonal and we anticipate selling less volume over the winter months so we have adjusted to one, 10-hour shift per day beginning November 1, 2016," he said.
GYPSOIL PLANT
"We are absolutely not shutting down operations and we anticipate adding capacity back next spring as farmers apply fertilizer for the 2017 growing season," Musser said. "Our production over the winter will focus on preparing inventories for early spring sales."
Staffing has been adjusted to match production needs. "We operated with 17 employees at our peak earlier in the year and we are now operating with nine employees," Musser said.
The company is optimistic about continuing to build demand for GYPSOIL BLENDABLE as more fertilizer distributors and retailers learn of its specific quality and economic benefits and features.
"Gypsum is one of the most cost-effective sources of sulfur available and corn, soybeans and alfalfa need sulfur to grow and to develop to their genetic potential," Musser said. "Calcium contributes by improving soil structure, cell wall growth and root function," Musser says.
GYPSOIL BLENDABLE is sold through fertilizer distributors and retailers. For more information and a list of GYPSOIL BLENDABLE dealers, call 844-BLENDUS or write blendable@gypsoil.com. 


GYPSOIL is a trade name of the GYPSOIL Division of Beneficial Reuse Management LLC.
GYPSOIL BLENDABLE is a tradename of GYPSOIL Pelletized Products LLC.
372 West Ontario Street ● Suite 501 ● Chicago, IL 60654 ● 1-866-GYPSOIL (497-7645)
● www.gypsoil.com ● Twitter @gypsoil ● Facebook.com/pages/gypsoil.