Media inquiries
Using gypsum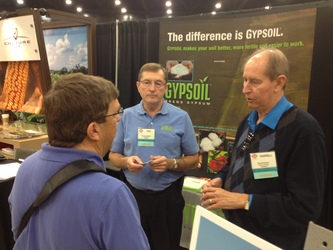 to improve soil quality is a popular topic for farm and agricultural inflencer audiences. Please contact our communications consultant Karen Bernick at 1-866-GYPSOIL (497-7645) if you have questions, need story ideas, photos or want to set up interviews with a GYPSOIL team member. GYPSOIL also participates in many national trade shows and meetings including Ag Media Summit, Commodity Classic, National No Tillage Conference and Farm Progress show to name a few.
High resolution photos for current news release available here.
Recorded and Powerpoint presentations from the 2014 Midwest Soil Improvement Symposium can be found on the Symposium page.
Highlights from the 2014 press conference at Ohio Farm Science Review.
A collection of general press releases can be found below:

RSS Feed:
feed://www.gypsoil.com/rss/news-releases
Strategies and Resources for Managing Phosphorus, Protecting Groundwater Highlighted at Ohio's Farm Science Review
Published September 16, 2014
http://www.prweb.com/releases/2014/09/prweb12180330.htm
Chicago – September 16, 2014 – Water quality and strategies for managing phosphorus in farm fields are hot topics, especially in light of recent drinking water issues in Toledo, Ohio. A group of experts gathered today at The Ohio State University's Farm Science Review (FSR) to discuss practical strategies and research that is underway in Ohio related to soil management and water quality.
The FSR was a fitting backdrop for the one-hour press conference sponsored by GYPSOIL brand gypsum. FSR draws 140,000 people to learn about the latest in farm research, agronomic practices and conservation methods for helping agricultural producers implement new tools, technologies and products, and strategies on the farm.
"Recent water quality concerns in Toledo make Ohio's Western Lake Erie Basin a key area of concern, but the importance of water quality is a global issue. It's our most precious resource and the agricultural community is committed to finding the best tools and practices to protect it," said Ron Chamberlain, lead agronomist for GYPSOIL Division of Beneficial Reuse Management, in a pre-conference interview.
Topics and speakers at the press conference included:
Joe Nester, Nester Ag, Bryan, OH: Practical strategies for managing soil quality and phosphorus in farm fields;

Terry Cosby, state conservationist, Ohio Natural Resources Conservation Service: Enlisting NRCS' support to make management improvements;

Andrew Ward, professor, Department of Food, Agricultural and Biological Engineering, The Ohio State University: Healthy Soils for Healthy Waters initiative kick-off for developing whole system solutions.
"The industry is working hard to identify and recommend best management practices for production agriculture that will protect our waterways," said Chamberlain. "Many of those are available to farmers today and on display at the Farm Science Review, including GYPSOIL. We are focused on providing gypsum to help crop growers improve soil structure in their farm fields.
"There is a growing body of research describing the water quality benefits associated with gypsum use. For example, preliminary results of ongoing soil management research in Ohio indicate that gypsum helps decrease the concentration of soluble reactive phosphorous in farm tile water by more than 50 percent," noted Chamberlain.
"We are seeing the positive environmental impacts such as less nutrient runoff plus reduced erosion and better nutrient efficiency, on commercial farms and in research across multiple watersheds. Farmers are very interested in using tools such as gypsum to help manage phosphorus," Chamberlain said.
For more information, visit Gypsoil.com.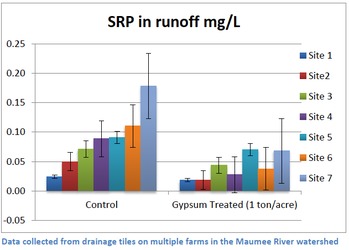 Gypsum treated plots showed an average 55 percent reduction of soluble reactive phosphorus concentrations in tile water runoff compared to untreated plots in a recent study led by The Ohio State University.
About GYPSOIL
GYPSOIL is a division and trade name of Beneficial Reuse Management, LLC. Its mission is to help crop growers improve their soils and increase productivity while conserving natural resources and protecting the environment. GYPSOIL brand gypsum is now available through distributors in 20 states in the Midwest, Plains and South, plus Ontario in Canada. GYPSOIL manages gypsum distribution and marketing programs for a wide range of supply partners including utilities and manufacturing companies, diverting valuable co-products from landfill disposal to productive use as agricultural inputs.
GYPSOIL Division of Beneficial Reuse Management LLC, ● 1-866-GYPSOIL (497-7645) ● Gypsoil.com ● 372 West Ontario Street, Suite 501, Chicago, IL 60654