Media inquiries
Using gypsum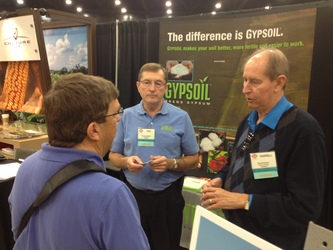 to improve soil quality is a popular topic for farm and agricultural inflencer audiences. Please contact our communications consultant Karen Bernick at 1-866-GYPSOIL (497-7645) if you have questions, need story ideas, photos or want to set up interviews with a GYPSOIL team member. GYPSOIL also participates in many national trade shows and meetings including Ag Media Summit, Commodity Classic, National No Tillage Conference and Farm Progress show to name a few.
High resolution photos for current news release available here.
Recorded and Powerpoint presentations from the 2014 Midwest Soil Improvement Symposium can be found on the Symposium page.
Highlights from the 2014 press conference at Ohio Farm Science Review.
A collection of general press releases can be found below:

RSS Feed:
feed://www.gypsoil.com/rss/news-releases
AG Media Summit - Midwest
Published July 25, 2011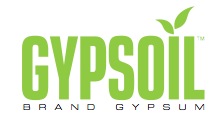 FOR IMMEDIATE RELEASE
Robert Spoerri
Beneficial Reuse Management LLC
GYPSOIL

TM

IMPROVES AND LOOSENS SOIL, ADDS SULFUR
July 25, 2011, Chicago, IL - Farmers are learning that applying gypsum to agricultural fields improves soil quality by loosening tight clay soils. As a result, fields absorb water faster and deeper, are less prone to crusting and are easier to work. Improved soil quality also allows plants to send roots deep into the profile. In addition, gypsum provides an ample supply of vital sulfur, which is rapidly becoming deficient in many soils.
Clean air standards require the removal or scrubbing of sulfur dioxide (S02) from flue gasses that are generated during the burning of coal. Gypsum or calcium sulfate dihydrate (CaSO4 - 2H2O) is produced at certain coal-fired power plants as a byproduct of pollution control equipment. It is also produced as a byproduct of corn fermentation for certain food additive production facilities.
Beneficial Reuse Management (BRM) - marketers of GYPSOIL brand gypsum - works with coal-fired utilities and other processing facilities to provide gypsum marketing, regulatory compliance and technical services necessary for distributing gypsum to agricultural producers.
Soil Amendment
Growers typically apply one to two tons per acre of GYPSOIL. Over time, it neutralizes the metals and chemical salts that bind to clay particles and cause poor soil structure. "The result is a softer, more manageable soil profile," says Ron Chamberlain, director of gypsum programs for GYPSOIL/BRM. "This means there is less crusting and sealing at the soil surface, and less ponding and runoff after a rain, as well as less soil erosion."
GYPSOIL also helps create an environment, deep into the soil profile, that is conducive to soil organisms, including microbes as well as earthworms. These soil organisms break down organic matter and nutrients in the soil faster and better, making nutrients more available to plants, explains Chamberlain. "This helps make crops healthier and more vigorous," he says.
Serving growers
"Our goal is to help agricultural producers gain access to sustainable resources to meet their production needs," says Chamberlain.
About GYPSOIL GYPSOIL is a division and tradename of Beneficial Reuse Management LLC. Its mission is to make a positive impact in our customers' soil while conserving natural resources and protecting the environment.