Media inquiries
Using gypsum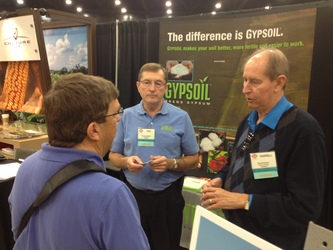 to improve soil quality is a popular topic for farm and agricultural inflencer audiences. Please contact our communications consultant Karen Bernick at 1-866-GYPSOIL (497-7645) if you have questions, need story ideas, photos or want to set up interviews with a GYPSOIL team member. GYPSOIL also participates in many national trade shows and meetings including Ag Media Summit, Commodity Classic, National No Tillage Conference and Farm Progress show to name a few.
High resolution photos for current news release available here.
Recorded and Powerpoint presentations from the 2014 Midwest Soil Improvement Symposium can be found on the Symposium page.
Highlights from the 2014 press conference at Ohio Farm Science Review.
A collection of general press releases can be found below:

RSS Feed:
feed://www.gypsoil.com/rss/news-releases
Midwest Soil Improvement Symposium Coming to Kansas State University Alumni Center on August 13, 2014 - Growers and Ag Professionals Encouraged to Register
Published June 5, 2014
Chicago – June 5, 2014 – Key industry experts will discuss the benefits of agricultural gypsum at the fourth annual Midwest Soil Improvement Symposium: Research and Practical Insights into Using Gypsum. The symposium offers advanced education on the use of agricultural gypsum for managing soil quality. It will take place at the Kansas State University Alumni Center on August 13, 2014, and is co-sponsored by GYPSOIL, a division of Beneficial Reuse Management (BRM), and the Kansas Agribusiness Retailers Association (KARA).
"People are expressing an interest in using gypsum in agriculture to provide a source of nutrients and push the yield envelope. The Midwest Soil Improvement Symposium is a great opportunity for people to come together – as growers and consultants – to learn about gypsum, reasons for using it, the key benefits and the nutrient content. It's also a great chance to hear presentations from renowned soil scientists," says Dr. DeAnn Presley, Associate Professor of Environmental Soil Science and Management at Kansas State University.
Confirmed speakers include:
Dr. Warren Dick, Soil Scientist and Professor, School of Environment and Natural Resources, The Ohio State University
Dr. Darrell Norton, Research Soil Scientist, (retired) USDA-ARS, National Soil Erosion Research Laboratory and Adjunct Professor, Purdue University
Dr. DeAnn Presley, Associate Professor, Environmental Soil Science and Management, Kansas State University
Dr. Dorivar Ruiz Diaz, Associate Professor, Soil Fertility and Nutrient Management, Kansas State University
Dr. Leo Espinoza, Associate Professor, Soil Science, University of Arkansas
Dr. Marv Batte, Professor Emeritus, The Ohio State University
Joe Nester, Owner, Nester Ag, Bryan, Ohio
Jared Morrison, Environmental Manager of Water and Waste Programs, Westar Energy
Ron Chamberlain, Lead Agronomist for GYPSOIL/BRM
Cory Schurman, National Sales Manager for GYPSOIL/BRM
Jackie McClaskey, Kansas Agricultural Secretary and Tracy Streeter, Kansas Water Office Director, will make a special combined presentation.
The symposium also includes panel discussions with experienced gypsum users, plus spreader set-up and application tips.
"Kansas prairie soils have great production potential, however, deteriorating soil structure, weather extremes, rainfall patterns and sulfur deficiencies are often problems. This educational event will discuss how gypsum provides sulfate sulfur, the readily-available form that satisfies crop needs. We'll also talk about how gypsum balances calcium and other important nutrients leading to better soil structure, improved water use efficiency, nutrient utilization, biological activity and a cleaner environment," says Ron Chamberlain, Lead Agronomist for GYPSOIL.
The Kansas Agricultural Retailers Association was eager to co-sponsor the event. "We are pleased to co-sponsor the fourth annual Midwest Soil Improvement Symposium. We believe the symposium is an excellent way to educate people in agriculture about advances in new technology and innovations available in Kansas and surrounding states," states Dana Minihan, Vice President of Member Services, KARA.
The program will get underway at 8:15 a.m. and last until 4:50 p.m. Early registration is now open at Gypsoil.com/symposium. Registration also is available the day of the event from, 7:00 a.m. to 8:00 a.m. at the Alumni Center. Lunch and parking are included with registration. An optional pre-conference spreading demonstration by J.B. Pearl Sales and Service is scheduled beginning at 6:45 a.m. at the Kansas State University North Agronomy Farm. Continuing Education Unit (CEU) credits will be available. Cost for the symposium is $20 in advance or $25 at the door.
The event is open to anyone interested in learning more about agricultural gypsum. Early registration is open through August 1, 2014. For more information, visit Gypsoil.com or call 866-GYPSOIL (497-7645).
About KARA
KARA is a volunteer organization whose membership includes over 700 agribusiness firms that are primarily retail facilities that supply fertilizers, crop protection chemicals, seed, petroleum products and agronomic expertise to Kansas farmers. KARA's membership base also includes ag-chemical and equipment manufacturing firms, distribution firms and various other businesses associated with the retail crop production industry.
About GYPSOIL
GYPSOIL is a division and trade name of Beneficial Reuse Management, LLC. Its mission is to help crop growers improve their soils and increase productivity while conserving natural resources and protecting the environment. GYPSOIL brand gypsum is now available through distributors in 22 States in the Midwest, Plains and South. GYPSOIL manages gypsum distribution and marketing programs for a wide range of supply partners including utilities and manufacturing companies, diverting valuable co-products from landfill disposal to productive use as agricultural inputs.
– END –
GYPSOIL Division of Beneficial Reuse Management LLC, ● 1-866-GYPSOIL (497-7645) ● Gypsoil.com
372 West Ontario Street, Suite 501, Chicago, IL 60654
Twitter @gypsoil ● Facebook.com/pages/gypsoil ● Linkedin.com/company/gypsoil-llc